Chocolate Zucchini Muffins
As a food blogger, I like to check out other blogs and try a bunch of recipes. I love cooking or baking with fruits and vegetables that are in season and right now as there is an abundance of zucchini available. What better way to use them, then to add them into muffins with chocolate. I adapted this recipe from Oh She Glows, because sometimes you just don't have all the ingredients on hand or you want to add an ingredient that you like. These muffins are nice and moist with no added oil. I added millet which creates a nice crunchy texture. Some use it for bird food, although it contains plenty of nutrients including copper, manganese, phosphorus, and magnesium.
Recipe
Yields 12 muffins
Ingredients
1 cup oat flour
1/2 cup whole wheat flour
1/3 cup raw millet
1/3 cup coconut sugar
1 teaspoon baking powder
1/2 teaspoon baking soda
1/4 teaspoon salt
1/4 cup cocoa powder
2 tablespoons ground flax seeds
1 cup unsweetened coconut milk
1 tablespoon raw apple cider vinegar
2 tablespoons maple syrup
1 teaspoon vanilla
1/2 cup Enjoy Life Foods mini chocolate chips
1 cup shredded zucchini
Method
Mix 3 tablespoons of water with flax seeds, set aside.
Mix coconut milk with raw apple cider vinegar, vanilla, and maple syrup. Set aside.
Shred zucchini.
In a large bowl, combine flours, millet, cocoa powder, sugar, baking soda, baking powder and salt.
Combine flax seed mixture, milk mixture into flour mixture, stir until combined.
Fold in zucchini and chocolate chips.
Grease a muffin tin with oil, and evenly pour batter in to the muffin tray.
Bake for 15-17 minutes at 350F.
Store at room temperature for 2-3 days, in the fridge for 5 days or freeze up to 3 months in a sealed container. 
Created by: Renee Altman, RHN from Verity Nutrition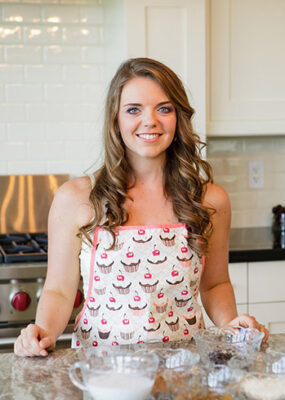 Renee was raised in small town Kaslo in the West Kootenays. After graduating, she pursued a health and lifestyle path by enrolling in the Human Kinetics program at the University of British Columbia Okanagan in Kelowna. While attending university, she found her passion not only to be fitness, but also nutrition. In 2012, Renee attended the Canadian School of Natural Nutrition in Nanaimo, where she specialized in holistic nutrition. She then returned to the Okanagan where she now resides. Renée's strong belief in healthy practices such as fitness, nutrition, and emotional well-being fit well with the principles of holistic nutrition.
Renee's method is to ditch the diet and switch to a lifestyle where incorporating nourishing food everyday will have you feeling empowered and revitalized. Her plan will have you forgetting about trendy diets that leave you feeling hungry, irritable, and tired, and instead incorporating natural, alive, and good quality whole foods.