Chocolate 'Reeses' Easter Eggs- Nut Free!
Recipe
Yields 7 eggs | Prep time 10 minutes | Total time: 1 hour 30 minutes |
Ingredients
1/2 cup sunflower seed butter
1 tablespoon coconut flour
2 tablespoons maple syrup
1/2 cup chocolate chips (I used Enjoy Life dairy free vegan chocolate chips)
1 teaspoon coconut oil
Instructions
Mix sunflower seed butter, maple syrup, and coconut flour.
Place a sheet of parchment paper over a flat surface like a cutting board.
Roll dough into balls then form into egg shapes.
Place in the freezer for 15 minutes.
Melt chocolate and coconut oil in a double boiler (use a pot with boiling water then place a bowl overtop so the steam from the water melts the chocolate without burning it).
Remove eggs from the freezer. Coat each egg with chocolate and place back on the parchment paper. sprinkle some sprinkles if you like (I used Lets Do Organic kind).
Put chocolate eggs in the freezer until completely hardened (at least an hour). I pulled them out too early and they weren't fully frozen and some broke as I tried to pull them off.
Enjoy!
Store in fridge or freezer until ready to be eaten as the chocolate will become soft at room temperature.
Created by: Renee Altman, RHN from Verity Nutrition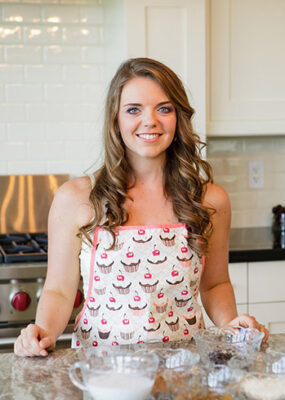 Renee was raised in small town Kaslo in the West Kootenays. After graduating, she pursued a health and lifestyle path by enrolling in the Human Kinetics program at the University of British Columbia Okanagan in Kelowna. While attending university, she found her passion not only to be fitness, but also nutrition. In 2012, Renee attended the Canadian School of Natural Nutrition in Nanaimo, where she specialized in holistic nutrition. She then returned to the Okanagan where she now resides. Renée's strong belief in healthy practices such as fitness, nutrition, and emotional well-being fit well with the principles of holistic nutrition.
Renee's method is to ditch the diet and switch to a lifestyle where incorporating nourishing food everyday will have you feeling empowered and revitalized. Her plan will have you forgetting about trendy diets that leave you feeling hungry, irritable, and tired, and instead incorporating natural, alive, and good quality whole foods.