These delicious mini muffins are packed with powerhouse leaf called moringa!
What is Moringa?
Moringa Oleifera is a small, fast-growing tree found in most, if not all tropical regions. The leaves are proven to be among the worlds most nutritious vegetables.
Moringa has been used for centuries for more than just food – many cultures throughout history have found medicinal uses for the tree.
Increased Health: Moringa is purported to lower blood sugar, maintain healthy cholesterol levels, and even reduce inflammation.
Who needs Moringa?
Well, Everyone. Moringa is the Miracle Tree of Life and is perfectly suited to nourish the human body. Organic Moringa is the perfect supplement for your incredible life.
If you're optimizing your health, eating clean and focusing on nourishing the body with the best foods you can find, Moringa should be your first choice. With an absolutely amazing amount of Anti-Oxidants, Vitamins and Minerals packed into Moringa, you really can't find a better bio-available source.
Athletes of all sorts are seeing the benefits; increased endurance, higher vitality, lower inflammation and better recoveries. Add a tablespoon or two of Moringa Powder to your morning shake and go for it!
Rich in Nutrients
Moringa contains around 90 essential nutrients, vitamins and minerals, 9 essential amino acids and phytonutrients. It is a good source of Vitamins A, B1, B2, B3, B6, B7, C, D, E, and K; calcium; copper; iron; potassium; magnesium; manganese; zinc; and Omegas 3, 6, and 9.
Loaded with Anti-Oxidants: Moringa leaves are rich in polyphenols (a strong antioxidant), including vitamin C, beta-carotene, quercetin, and chlorogenic acid. Nothing is Wasted: Moringa Powder delivers this superfood in a highly concentrated and bioavailable form – meaning nothing is wasted, your body will easily absorb all of these benefits.
Recipe
Yields 30 mini muffins
Ingredients:
1 1/2 cups oat flour
1 teaspoon baking powder
1/2 cup coconut sugar
2 teaspoons cinnamon
1 teaspoon moringa powder (I used Salome Naturals)
1 egg
2 large ripe bananas, mashed
1/3 cup avocado oil or melted coconut oil
1/2 cup unsweetened coconut or hemp milk.
1 teaspoon vanilla
1/3 cup raw pumpkin seeds
Method:
Preheat oven to 350F. Grease a mini muffin tin.
Combine oat flour, baking powder, cinnamon, moringa powder, and coconut sugar in a bowl.
In a medium-sized bowl, whisk together egg, vanilla, df milk, grape seed oil and mashed bananas.
Combine wet mixture with flour mixture.
Mix in pumpkin seeds (reserve some for decoration on top).
Scoop batter into the greased muffin tin.
Bake for 15 minutes.
Per mini muffin
55cal
3g fat
6g carbs
1g protein
Enjoy!
Created by: Renee Altman, RHN from Verity Nutrition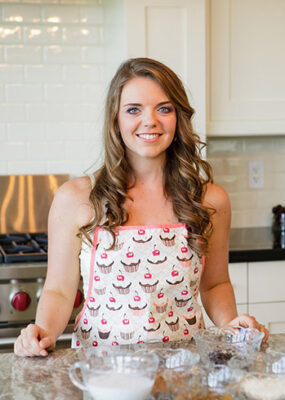 Renee was raised in small town Kaslo in the West Kootenays. After graduating, she pursued a health and lifestyle path by enrolling in the Human Kinetics program at the University of British Columbia Okanagan in Kelowna. While attending university, she found her passion not only to be fitness, but also nutrition. In 2012, Renee attended the Canadian School of Natural Nutrition in Nanaimo, where she specialized in holistic nutrition. She then returned to the Okanagan where she now resides. Renée's strong belief in healthy practices such as fitness, nutrition, and emotional well-being fit well with the principles of holistic nutrition.
Renee's method is to ditch the diet and switch to a lifestyle where incorporating nourishing food everyday will have you feeling empowered and revitalized. Her plan will have you forgetting about trendy diets that leave you feeling hungry, irritable, and tired, and instead incorporating natural, alive, and good quality whole foods.