2 Bite Brownies
Everybody deserves a treat. These two bite brownies are extra special in that they are gluten free, nut free, vegan and low in sugar . . . so you won't feel guilty having more than one.
Ingredients:
1 1/2 cups certified gluten free oat flour
1/2 cup coconut sugar 1/2 cup dutch cocoa powder (the really dark stuff)
1/2 cup + 2 tablespoons unsweetened coconut milk
1/2 cup avocado oil
1 1/2 teaspoons vanilla extract
1/4 teaspoon baking soda
Dash of salt
1/4 cup Enjoy Life (vegan and nut-free) mini chocolate chips
Method:
Set oven to 350F. Grease mini brownie silicone mold with oil.
Combine coconut milk, coconut sugar and oil in a medium sized bowl. Stir, and allow sugar to dissolve.
In another bowl, combine oat flour, cocoa powder, baking soda and salt.
Gradually add dry ingredients into wet ingredients, stirring constantly until combined. Fold in chocolate chips.
Bake for 12-15 minutes. 12 minutes will be super fudgey, while baking a few more minutes will make them have a crispier outside with fudgey center.
Let cool and remove from molds.
Makes 20 two-bite brownies
Click to download and save or print for your recipe box. 2 bite brownies
Created by: Renee Altman, RHN from Verity Nutrition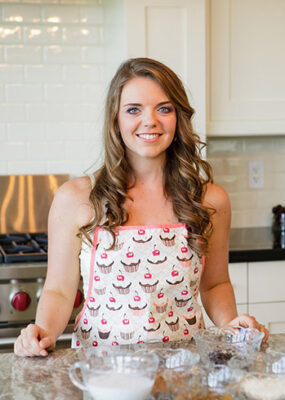 Renee was raised in small town Kaslo in the West Kootenays. After graduating, she pursued a health and lifestyle path by enrolling in the Human Kinetics program at the University of British Columbia Okanagan in Kelowna. While attending university, she found her passion not only to be fitness, but also nutrition. In 2012, Renee attended the Canadian School of Natural Nutrition in Nanaimo, where she specialized in holistic nutrition. She then returned to the Okanagan where she now resides. Renée's strong belief in healthy practices such as fitness, nutrition, and emotional well-being fit well with the principles of holistic nutrition.
Renee's method is to ditch the diet and switch to a lifestyle where incorporating nourishing food everyday will have you feeling empowered and revitalized. Her plan will have you forgetting about trendy diets that leave you feeling hungry, irritable, and tired, and instead incorporating natural, alive, and good quality whole foods.