Who knew these bars could be raw, gluten free, vegan, grain free, dairy free and of course amazing all in one go!? There are no artificial colours or sweeteners in this recipe and they are naturally coloured with spinach juice.
This recipe calls for peppermint oil, which is more potent than peppermint extract. I have not tried this recipe with peppermint extract, if you do use it, add the required 1 teaspoon then add more to your taste.
Recipe
Yields 20 bars
Ingredients
Crust base
10 medjool dates, pits removed
1 cup sunflower seeds (or substitute with almonds, if you have no nut allergies)
1/3 cup cocoa powder
1 tablespoon maca powder (optional)
1 teaspoon food grade peppermint oil
3 tablespoons coconut milk (or sub with almond milk, if you have no allergies)
2 tablespoons chocolate chips (Enjoy Life brand – for allergy free)
Middle Layer
1 cup coconut oil, softened
4 tablespoons coconut flour, sifted
4 tablespoons arrowroot powder
1 teaspoon food grade peppermint oil
2 tablespoons raw unpasteurized honey
1 tablespoon fresh mint leaves, minced
1-2 tablespoons spinach juice for colour or 1 teaspoon spirulina powder
Top Layer
1/3 cup Enjoy Life chocolate chips
1 teaspoon coconut oil
Method
1. Add all crust ingredients into a food processor and process until a dough forms. Press into an 8×8 greased pan or line with parchment paper for easy removal.
2. Combine all middle ingredients into a stand up mixer and whip for 1 minute. Spread evenly on to the crust.
3. Pour 1 inch of water in a small pot, then put a metal bowl on top so it fits on the rim. Place the chocolate chips and coconut oil into the small metal bowl. Boil water, the steam will melt the chocolate chips. Stir until fully melted, and pour over bars. Put in the fridge to harden.
4. Store in the fridge up to a week or freezer for up to 1 month (if they last that long).
TIP: Cut bars into squares before freezing.
Enjoy!
Print for your recipe box: Mint Chocolate Layer Bars
Created by: Renee Altman, RHN from Verity Nutrition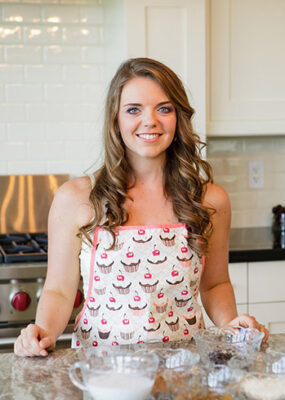 Renee was raised in small town Kaslo in the West Kootenays. After graduating, she pursued a health and lifestyle path by enrolling in the Human Kinetics program at the University of British Columbia Okanagan in Kelowna. While attending university, she found her passion not only to be fitness, but also nutrition. In 2012, Renee attended the Canadian School of Natural Nutrition in Nanaimo, where she specialized in holistic nutrition. She then returned to the Okanagan where she now resides. Renée's strong belief in healthy practices such as fitness, nutrition, and emotional well-being fit well with the principles of holistic nutrition.
Renee's method is to ditch the diet and switch to a lifestyle where incorporating nourishing food everyday will have you feeling empowered and revitalized. Her plan will have you forgetting about trendy diets that leave you feeling hungry, irritable, and tired, and instead incorporating natural, alive, and good quality whole foods.