Lentil Masala Soup
I always try to go a day without eating meat as eliminating meat from your day allows you to opt for other sources of proteins. There are plenty of options like eggs, cheese, yogurt, seeds, tempeh, legumes and lentils.
Lentils and legumes are a good source of protein and an excellent source of fiber! Fiber helps us stay full for longer periods of time and maintains a healthy digestive tract by moving things along thus keeping you regular.
This soup is rich in cancer-fighting turmeric powder. Combined with a pinch of black pepper, it increases the absorbability by 1000%! With your first bite, your tastebuds will explode with excitement from the abundance of flavour, you will not miss the meat in this meal! Leftovers can be stored in the freezer for a later date (if there is any).
Recipe
Serves 4 | Prep time: 10 minutes Cook time: 20 minutes
Ingredients
1 teaspoon coconut oil
1/2 cup red onion, diced
4 garlic cloves, minced
1 teaspoon turmeric
1 tablespoon garam masala
1 teaspoon Himalayan Salt
1 cup fresh cilantro, chopped
4 cups organic vegetable broth or bone broth (non-vegan)
3 cups diced tomatoes
1 cup red lentils, dry
1 cup organic coconut milk, canned
4 cups kale leaves, stemmed and chopped
Method
Heat coconut oil in a large stockpot over medium heat. Add the onions and saute for about 4 minutes or until translucent. Add in the minced garlic and saute for another minute.
Stir in the turmeric, garam masala, and Himalayan salt until mixed.  Add the cilantro, vegetable broth, and diced tomatoes. Bring to a boil then reduce heat to a simmer.
Add dry lentils, cover and cook for 15 to 20 minutes.
Once the lentils are cooked, pour in the coconut milk. Stir, then add the kale. Cook kale until it's wilted.
Remove from heat and ladle into bowls. Garnish with cilantro or other option of your choice (I added chopped almonds as I do not have any allergies).
Enjoy!
Created by: Renee Altman, RHN from Verity Nutrition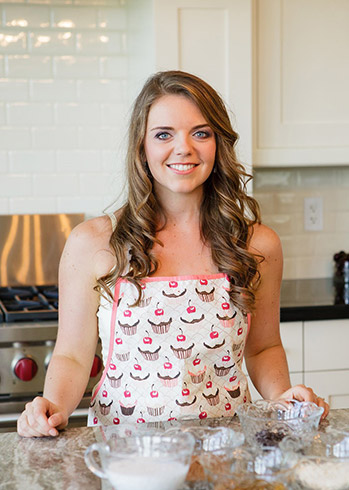 Renee was raised in small town Kaslo in the West Kootenays. After graduating, she pursued a health and lifestyle path by enrolling in the Human Kinetics program at the University of British Columbia Okanagan in Kelowna. While attending university, she found her passion not only to be fitness, but also nutrition. In 2012, Renee attended the Canadian School of Natural Nutrition in Nanaimo, where she specialized in holistic nutrition. She then returned to the Okanagan where she now resides. Renée's strong belief in healthy practices such as fitness, nutrition, and emotional well-being fit well with the principles of holistic nutrition.
Renee's method is to ditch the diet and switch to a lifestyle where incorporating nourishing food everyday will have you feeling empowered and revitalized. Her plan will have you forgetting about trendy diets that leave you feeling hungry, irritable, and tired, and instead incorporating natural, alive, and good quality whole foods.