Chocolate banana protein pancakes
Start your day out right with a healthy, protein-packed, decadent breakfast. What do you get when you combine cocoa powder, banana, coconut oil and oat flour . . . the most fabulous morning treat.

Ingredients
⦁ 1 cup oat flour
⦁ 1/4 cup cocoa powder
⦁ 1 teaspoon baking powder
⦁ 1/2 teaspoon baking soda
⦁ 2 scoops vanilla vegan protein powder (I used Genuine Health fermented vanilla)
⦁ 1/2 cup banana, mashed
⦁ 1 1/2 cups milk or milk alternative
⦁ 1 tablespoon chia seeds
⦁ 1 tablespoon avocado oil or melted coconut oil

Method
1. Combine oat flour, baking soda, baking powder, cocoa powder, protein powder together in a medium sized bowl.
2. In another bowl, mash banana and combine with milk, chia seeds and oil. Mix wet ingredients with dry ingredients to create the batter.
3. Heat a pan on medium heat and pour 1/4 cup batter for each pancake. Cook until bubbles start showing through, carefully flip pancakes and cook on other side until brown.

Serve with sliced bananas, cacao nibs, chia jam, coconut nectar, pure maple syrup or yacon syrup.
These are gluten free (make sure the oat flour is certified gluten free) and can be made dairy free (with dairy free milk- source unsweetened varieties free of carrageenan). I added vegan protein powder because most of us lack protein, especially if we eliminate animal products from our diet. Layer with bananas and drizzle with pure maple syrup for a decadent treat in the morning.
Makes 8-10 pancakes
Click to download and save or print for your recipe box. Chocolate banana protein pancakes
Created by: Renee Altman, RHN from Verity Nutrition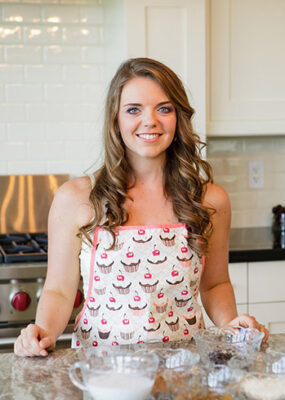 Renee was raised in small town Kaslo in the West Kootenays. After graduating, she pursued a health and lifestyle path by enrolling in the Human Kinetics program at the University of British Columbia Okanagan in Kelowna. While attending university, she found her passion not only to be fitness, but also nutrition. In 2012, Renee attended the Canadian School of Natural Nutrition in Nanaimo, where she specialized in holistic nutrition. She then returned to the Okanagan where she now resides. Renée's strong belief in healthy practices such as fitness, nutrition, and emotional well-being fit well with the principles of holistic nutrition.
Renee's method is to ditch the diet and switch to a lifestyle where incorporating nourishing food everyday will have you feeling empowered and revitalized. Her plan will have you forgetting about trendy diets that leave you feeling hungry, irritable, and tired, and instead incorporating natural, alive, and good quality whole foods.