Regaining My Inner Balance
Like most busy moms, I am constantly on the go. It takes a lot of work to pack up the kids and all their supplies for the day. However, I consider myself to be lucky as I can usually fit in some kind of "me" time on most days, such as gym time, tennis, lunch or coffee with a friend, or some quick shopping.
Since the mornings are so busy, most days I am lucky to get a five-minute shower and quickly put on mascara and lip gloss before heading out the door. A typical day for me means that I can have either good hair, good makeup, or a good outfit: two out of three means I am meeting a girlfriend for coffee, and three out of three means that I have a business meeting or that my kids were absolute angels.
Part of looking good, to me, means radiating a kind of inner peace or harmony, which comes from a body in balance.
By the end of the school year I was getting a bit harried and felt out of balance. I was forgetting lesson times and appointments, and had been taking my "athleisure" look too far, failing to put together decent outfits and just generally giving up on that aspect of my appearance – which is actually giving up on a part of myself. I feel that the image we project into the world is a reflection of how we are feeling on the inside. (Note to self: Even if Stella McCartney or Kate Hudson designs it, at the end of the day it is still a jogging suit.)
I needed to pull myself together, and fast.
I went for craniosacral therapy, which is supposed to harmonize the body, and felt the tension just melt away from my face. Any lines that had been forming just dissipated.
To regain my inner balance, I began meditating daily with a large, heart-shaped clear quartz crystal in one hand and a selenite crystal in the other, which I bought from Crystal Hills Organics. I would like to think that I am working my way toward balance, positivity, and peace.
I have a friend who, irrespective of the challenges and turmoil in her life, just radiates poise and balance. Her name is Corrie, and she is impossibly elegant and balanced; a cross between a (healthy) Karen Carpenter and Catherine Zeta-Jones. Both her physical and inner beauty are unsurpassed. She is one of those really smart people, just a few years older than me, who is raising amazing kids, overseeing a design business, a style maven who does it all and makes everything look easy. She cooks, she entertains, she is a goddess. I revere her.
Naturally, when I go out with her, I try to project effortless composure. Knowing that I had been working hard to harmonize my mind, body and spirit, the next time Corrie and I met for lunch, I put my hard work into action and made myself feel amazing. I wore a high-heeled snakeskin pump, dark skinny jeans, a white blouse with a sewn-in crystal bib necklace, and the navy floral Smythe blazer for spring. My hair was down in loose waves. The look was a little bit Elton John, and I was feeling it. I jazzed up my look with the Laura Mercier "Paris After the Rain" eye colour collection. It is a set of four matte and four glitter shadows. I was apprehensive when I bought it, but the matte colours brush on a very soft and subtle colour wash. For the matching glitter shadows, if you use a firmer brush to gently tap the shadow onto the lid, the effect is subtle and daytime appropriate. I skipped liner, as it kept the look softer for daylight. I really felt that this simple step finished my look. It was easy, and I truly believe that when you spend the time to put yourself together nicely, there is a serenity and confidence that emanates from within, a subtle glow of happiness.
In the space of five minutes, while I waited for Corrie in the lounge, three separate people I knew walked right past me, then turned around and came back because they said they had not recognized me at first – each told me how great I looked. It is always nice to hear a compliment, and it reminded me that if I want to put my best self out there, I need to step it up a notch, and maybe keep the athleisure wear for just those really "sporty" days.
Corrie arrived, graceful as ever, and we had just a really nice time. I felt peaceful, contented, beautiful, and secure all at the same time.
Sometimes, all it takes is some meditation, good crystal vibrations and a touch of sparkle on your face to elevate your look, balance your mood and regain your composure.
Created by Nicole Lachance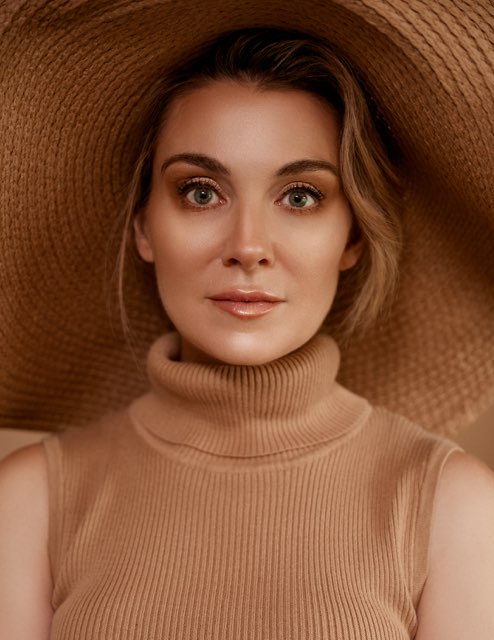 Nicole earned her Bachelor of Arts degree (with distinction) from the University of Alberta, with a major in French Language and Literature and a minor in Italian Language. She then continued her education at McGill University, earning her Bachelor of Common Law and Bachelor of Civil Law, where she was selected as class valedictorian. Nicole is a practicing lawyer and writes the Bella Vita Beauty Blog for Crystal Hills Organics. Nicole enjoys being active with her husband and three small children. She also enjoys traveling, playing tennis, ballet, cooking, baking, and experimenting with skin care and makeup. With too little sleep and a very exciting and hectic life as a mother of three young children, Nicole can appreciate the value and importance of implementing a skin care regimen composed of products containing quality ingredients. She also believes in the power of positive energy, and recognizes the benefits of using essential oils and other natural elements to create at-home beauty treatments.